KULI Newsletter 12/2021
Created by Author |
|
Newsletter KULI
Get the most out of the new version; System Check; WingFan SELECT 3D Integration
Get the most out of the new version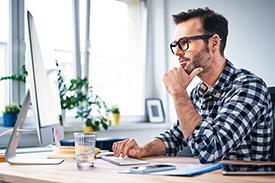 To assist you in getting the most out of the new version we have provided a release video, online trainings, and various other materials.
Have a look at our KULI 15 Release Video to get an in-depth introduction in the new features of KULI 15. If you want us to present the latest version of KULI in your company, please get in contact with us. Our KULI team is available for expert talks with your engineers to discuss how the latest version of KULI could improve your specific simulation topics.
Do you want to start with your KULI experience? Use the possibility at our KULI basic online training on September 22nd and 23rd. More information can be found on our website.
---
System check – the main new feature in KULI 15: This feature is the next step to support our users when setting up simulation models in KULI. System check analyses your current model for potential modelling issues. It can be triggered either by using the new button "System check" or automatically, when saving the simulation model. Problems identified by the check will be shown in the new "System report" panel as warnings and errors, which adds functionality and ease of use to the previously used "Output panel". Every issue shown in the panel now is clearly categorized by severity and additional descriptions explain potential root causes and provide suggestions for model improvement. The affected KULI components and elements are listed and linked, which allows users to directly access them with just one click. Further links refer directly to the relevant chapters of the KULI Online Help.
In addition to previously existing checks, which have been integrated into the new framework, the following additional checks are now available:
Checks regarding maximum values of operating characteristic in heat exchanger component data (RAD, CAC, OC, PFC, HM).
Checks, whether the maximum value of operating characteristic is smaller than a minimal realistic value (e.g., when wrong units are used)
Detection of parallel branches without pressure drop in fluid circuits (causing solver issues due to non-unique mass-flow distribution solutions)
Checks, whether user defined formulas in calculation objects do not use all input values (a possible indication for mistakes in the formula definition)
An in-depth look at this feature is given in the KULI 15 release video. More information can also be found in our Online Help. The list of checks will be extended continuously in subsequent KULI releases.

---
WingFan SELECT 3D Integration
KULI now enables easy access to WingFan SELECT, the leading 3D software tool for selecting axial fans. Quickly find the optimal fan for the application at hand.
KULI users benefit from seamless performance data import/export directly out of WingFan's smart fan selection tool. The new "WingFan SELECT" feature in KULI establishes a powerful connection and ensures fast fan data selection and integration. More time for innovation.
The software WingFan SELECT can be downloaded here for free.
For more details have a look at the KULI 15 release video.